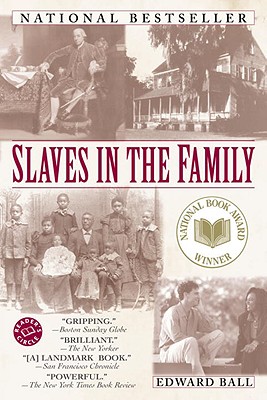 Stock Image
Author Name EDWARD BALL
Title SLAVES IN THE FAMILY
Binding TRADE PAPERBACK
Book Condition GOOD CONDITION
Publisher BALLANTINE/FAWCETT
ISBN Number 0345431057 / 9780345431059
Seller ID IM90954
NATIONAL BESTSELLER
" A] LANDMARK BOOK."
--"San Francisco Chronicle"
"POWERFUL."
--"The New York Times Book Review"
"GRIPPING."
--"The Boston Sunday Globe"
"BRILLIANT."
--"The New Yorker"
"EVERYONE SHOULD READ AND LEARN FROM THIS LUMINOUS BOOK...Like Alex Haley's Roots, through which African American history came into national focus...Slaves in the Family has the potential for creating a perceptual shift in the American mind...The book is not only honest in its scrupulous reporting but also personal narrative at its finest."
--"San Francisco Chronicle"
"BALL IS A FIRST-RATE SCHOLAR-JOURNALIST...He's also a good detective, tracking down the many descendants of Ball slaves from New York to California and back in the South and coaxing them, often with some difficulty, to tell their stories...Outside Faulkner, it will be hard to find a more poignant, powerful account of a white man struggling with his and his nation's past."
--"The Atlanta Journal-Constitution"
"A MASTERPIECE...REMARKABLE...It is a work about slaves in the family. But it is also a large omnium gatherum of enchanting fireside anecdotes, secrets teased out of reluctant fragments from the remote past, the real lives of blacks and whites whose stories had been lost in the disintegrating churn of time until Edward Ball's patient reconstructions."
--"The Raleigh News & Observer"
"A TOUR DE FORCE...The heart of this remarkable book consists of his sleuthing--tracking down and interviewing the descendants of former Ball slaves across the country... Part oral history, this unique family saga is a catharsis and a searching inventory of racially divided American society."
--"Publishers Weekly" (starred and boxed review)
"A PAGEANTRY OF PASSIONS AND STRUGGLES."
--"African Sun Times"
Price = 8.00 USD