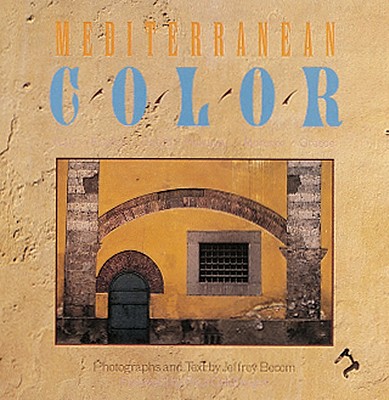 Stock Image
Author Name PAUL GOLDBERGER
Title MEDITERRANEAN COLOR : ITALY FRANCE SPA
Binding LARGE PAPERBACK
Book Condition VERY GOOD CONDITION
Publisher ABBEVILLE PRESS INC.
ISBN Number 0789207966 / 9780789207968
Seller ID IM259743
The sun-splashed countries of the Mediterranean are shown as they have never been seen before. Jeffrey Becom's vivid portrayal is not the hackneyed tourist attractions on perpetual display, not the well-worn monuments, not even the sweeping sea vistas of the postcards, but the houses of farmers and fishermen, the walls of back streets, the poignant, gentle, startling details of a dazzlingly varied vernacular architecture. Mediterranean Color is a very different kind of travel book, a guide not to the sites of great battles or great restaurants, but a guide to seeing what everyone else misses. Jeffrey Becom is a traveler in search of color, and he has found a bounty of it in the intimate corners of Italy, France, Spain, Portugal, Morocco, and Greece. Mediterranean Color is at once abstract and specific: the royal-blue, maroon, lobster-red, and yolk-yellow wall and doorway in a Becom photograph have all the persuasive coherence of a great color-field painting, but they are aspects of a real house belonging to a certain fisherman in a particular place. The photographs are set in context by Becom's brilliant writing, a personal memoir of his search for Mediterranean color and also the product of wideranging research on the history of the region and its marvelously varied traditions of vernacular building. Mediterranean Color is about seeing abstractly, but also concretely, intensely, and sensually, about seeing the life embodied in paint and stone and plaster. It is about how people in six nations on or near the Mediterranean Sea celebrate living in the exquisite details of the buildings they have created.
Price = 10.00 USD