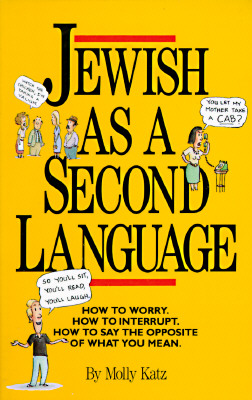 Stock Image
Author Name MOLLY KATZ
Title JEWISH AS A SECOND LANGUAGE
Binding TRADE PAPERBACK
Book Condition GOOD CONDITION
Publisher WORKMAN PUBLISHING COMPANY
ISBN Number 0894808850 / 9780894808852
Seller ID IM310984
When Molly Katz married a Gentile, she never expected him to master words like schmatta and schlemiel, but she also didn't realize how different Jews are from the people who aren't. Real Jewish has nothing to do with Yiddish, but is instead full of complex twists and somersaults on everyday speech, of unexpected nuances, hidden meanings, and swampy thickets of behavior.
As much about culture as it is about phrases, this guide covers everything from body language-the shrugs, the hands, the faces-to behavior, customs, quirks, and ordering Chinese food. The author reveals how an ingrown toenail can be worried into a life-threatening condition. She lists items never found in Jewish homes-trout flies, Rottweilers, drawers of peek-a-boo nighties-and appropriate words for when someone gets sick: "I'm not surprised," and "Oh, my God, I was with you last week "
So you'll sit, you'll read, you'll laugh.
Over 217,000 copies in print.
Price = 4.00 USD