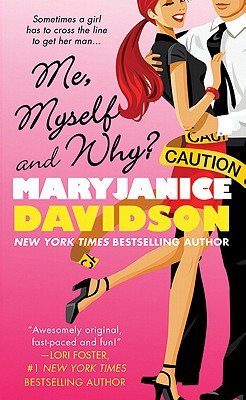 Stock Image
Author Name MARYJANICE DAVIDSON
Title ME MYSELF AND WHY?
Binding MASS MARKET
Book Condition GOOD CONDITION
Publisher ST. MARTINS PRESS/TOR BOOKS
ISBN Number 0312546769 / 9780312546762
Seller ID IM77576
Cadence Jones isn't your typical girl-next-door. She's a Special Agent for the FBI's team of operatives who are psychologically g"ifted"--which is the polite way of saying she's nuts. The tough-as-stilettos Cadence simply can't keep her mind off whatever--or whoever--pops into her head. Which is enough to drive any man away. Except one...
He's tall, dark...and high up on America's "Most Wanted" list. The FBI wants Cadence to enlist her mad-hot sisters, Shiro and Adrienne, to trap the notorious Threefer Killer, who--surprise--arranges his victims in threes. But Cadence has a WANTED list of her own, featuring her best friend's criminally handsome brother. Unfortunately, the closer she gets to her crush, the closer the killer gets to her..."and "her sisters.
Price = 4.00 USD